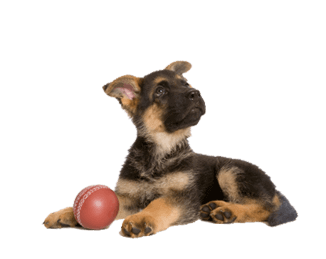 Doggie Daycare – Exercise for Your Dog's Body and Mind

At Just Dogs, canine behavior & development is our passion! We understand that appropriate socialization at various stages of a dog's life is important. Interactions that are safe, supervised, & on neutral territory can be a key to better behavior & improved well-being.
A general play day at JDPC includes 3-hour sessions in the morning and afternoon—in climate-controlled playrooms & outside fenced yards, like Rocco & Sweet Pea's Grassland. In between play sessions is nap time, complete with a cold peanut butter Kong® (or other parent-approved treat)! All dogs have a kennel assigned to them, which is their "home base" for nap time or breaks.
Many dogs love having a chance to socialize, from active players to wallflowers! While dog daycare is not right for every dog,* for many it is a welcome alternative to staying in the house, kennel, or yard all day!
---
*Doggie daycare is not for dogs who are aggressive or fearful of new dogs and/or humans, have health issues or physical limitations, or are advanced in age.
Is Doggie Daycare Worth the Cost?
Truth is, a daycare setting isn't right for every dog. But for many, it's a welcome alternative to being cooped up in the house, back yard, or kennel all day.
Here are just a few of the BENEFITS:
Dogs are active and social animals—they need to run and romp regularly. And for most dogs, the chance to play with other dogs is a joy like no other. A neutral territory like daycare provides an ideal setting for this.
Left home for extended periods of time, dogs often don't get the physical exercise or mental activity they need on a daily basis. And busy owners can be just too dog-tired to give their dog enough exercise and play regularly. After a day at playcare, expect your pooch to be the one who's more dog-tired than you.
Destructive behavior, incessant barking, regression in housebreaking—these can be indications of dog who is lonely or bored. A safe, educational, and fun daycare environment can address these and other concerns.
Animal experts agree that socialization of dogs is a key to their well-being. A daycare is a great place for your dog to make new friends—of the canine and human persuasion!
What Will My Dog Do All Day?
During doggie daycare, we:
Practice one-on-one & group obedience to encourage nice greetings & safe play;
Use toys & obstacles to give our canine clients mental & physical stimulation;
Work on good manners: walking nicely on lead, not bolting through doorways, & waiting patiently in a kennel for their turn at playtime.
Who Will Be Taking Care of My Dog?
Dogs are creatures of habit; they like familiar, friendly faces—dog or human. That's why your dog will be supervised at all times by the same qualified Dog Handlers who are dedicated to giving your best friend a terrific experience—whether for one visit or many.
JDPC Dog Handlers go through several weeks of intensive training to learn about animal behavior and dog communication. They are taught to constantly walk around & observe and interact with dogs, with a focus on keeping play nice and safe. Our Dog Handlers also adhere to strict standards with daily sanitizing, ensuring a healthy place for your dog to stay. JDPC employees are also involved in ongoing pet first aid training.
While we love and understand dogs, we are not veterinarians.* Our passion lies in canine behavior and development. Just Dogs PlayCare focuses on health maintenance and disease prevention by keeping dogs active. Our goals are to play with and train dogs; teach pack socialization; address regular health concerns; understand dogs' minds, hearts, and behaviors; and give them love, work, and purpose.
* If an injury or illness would occur while your dog is at JDPC, we would typically use your own vet (if in Iowa City, Coralville, North Liberty, or Tiffin).  After hours, we use Bright Eyes & Bushy Tails Emergency Clinic. Feel free to ask more about this during your pet's intake meeting.